Home | Voting | Results | About
Voting Closes at 8 p.m. on June 7
Tuesday, June 7 is the last day to vote in the 2022 Statewide Direct Primary Election. Voters can return their ballot by mail so long as it is postmarked on or before June 7. Voters may also drop off their ballot in a secure ballot drop box or at a Vote Center by 8 p.m. on June 7. They can also visit any Vote Center or pop-up voting location in Orange County to vote in person. To learn more, please visit our website at ocvote.gov/voting



Bob Page
Registrar of Voters
Current Tweet
The Orange County Registrar of Voters continues to be open as a voting location. At our office, you can register, mark your ballot, and cast your vote - all during one visit. For all your voting options, visit ocvote.gov/voting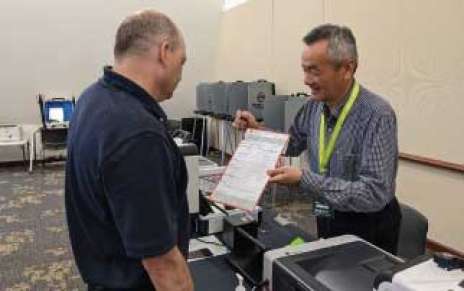 Conditional Voter Registration and Voting
Want to vote in the Primary Election but you missed the registration deadline on May 23? You can still vote provisionally by conditionally registering to vote in person at the Registrar of Voters' Santa Ana office or any Vote Center in Orange County. You will vote provisionally so we can confirm you are not already registered and haven't already voted elsewhere in the state before we count your ballot. Find the nearest Vote Center location at ocvote.gov/locate Learn more about conditional voter registration at ocvote.gov/faqs/conditional-voter-registration-faqs
Election Night Results Reporting
We process ballots as they are received back in our Santa Ana office. On Election Night, we will post the first unofficial results at 8:05 p.m., then update the results at 9:30 p.m. and every 30 minutes until we finish tallying the votes on every ballot voted in person at a Vote Center. Updates will continue each weekday at 5 p.m. until the certified official results are posted. To learn more about Election Night Results Reporting, visit: ocvote.gov/results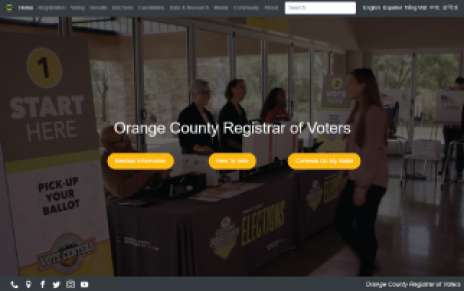 View your Voter Information Guide and Candidate Financial Reports Online
Want to be better informed when you vote? From the Voter Information Guides to the Candidate Financial Reports, our website includes a wide range of information for Orange County voters may review before marking their ballot.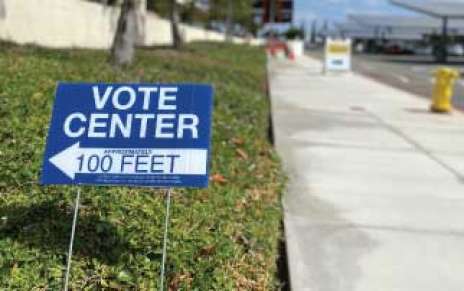 Responding to Electioneering
Pursuant to California Elections Code § 18371, electioneering is prohibited within the immediate vicinity of a person in line to cast their ballot or within 100 feet of the entrance of a Vote Center, curbside voting, or a ballot drop box. Any attempts to corrupt the voting process will be referred to the County District Attorney's office.
S H A R E N E W S L E T T E R
Current Voter Registration
1,810,122
Registration | Data | Results | Contact Us | Media