Home | Voting | Results | About
Redistricting and Voting in Orange County
Every 10 years, State, County and local agencies use new U.S. Census data to redraw the boundaries of each of their districts to balance the population within each jurisdiction. This process, called redistricting, ensures that each district has about the same number of residents. As a result, every voter in Orange County will have one or more new districts on their ballot for the 2022 General Election than they did in 2020. Using the interactive Find My District map, you can view your current districts and elected officials.

If you have more questions about redistricting, check out our Redistricting Frequently Asked Questions (FAQs) page.



Bob Page
Registrar of Voters
Current Tweet
Did you know that Orange County is the 5th largest voting jurisdiction in the nation and has more registered voters than 21 states? You can register to vote by visiting registertovote.ca.gov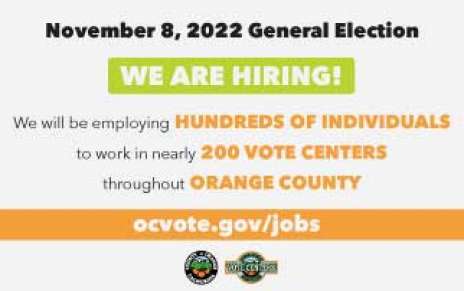 We're hiring!
You can help your neighbors to vote in the upcoming election while earning a little extra money! Our office is currently hiring hundreds of dependable people to work as a Customer Service Representative at our 181 Vote Centers throughout the county. To learn more or apply, visit our website.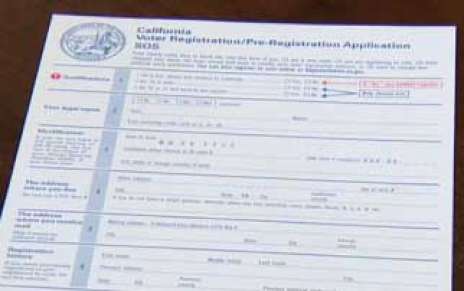 Registering to Vote
You can register to vote online or in-person at a Vote Center as well as the Registrar of Voters at 1300 South Grand Avenue, Building C, Santa Ana, CA 92705 (at the corner of Grand Avenue & McFadden).
If you are already registered to vote and want to confirm your voter registration information is current, you can verify your registration online today by visiting our website.
The Voter Registration deadline for the 2022 General Election is October 24. Conditional voter registration extends the deadline for eligible voters, allowing them to register and vote provisionally 14 days prior to an election and on Election Day.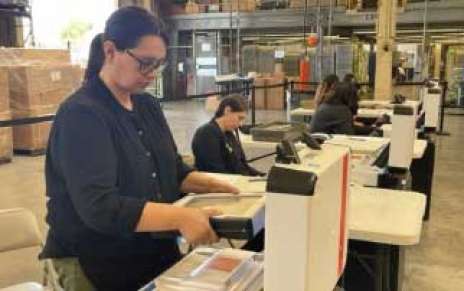 Election integrity and security
Election security is a top priority for the Orange County Registrar of Voters. During each election, we conduct numerous tests and audits to ensure the accuracy and integrity of the ballot counting equipment and software, including the following:
Confirm before and after the election that the State-certified voting system software we use has not been modified
Reload the voting system software onto ballot scanning and vote tallying equipment
Run test ballots through every ballot scanner before and after the election to ensure they count votes accurately
Conduct two audits that randomly select ballots to manually count to confirm the machine count -- 1% Manual Tally and Risk Limiting Audit
Additionally, all votes are cast on paper ballots, and the vote tally system is not connected to the internet. All of these tests and audits are open to the public to observe.
S H A R E N E W S L E T T E R
Current Voter Registration
1,811,829
Registration | Data | Results | Contact Us | Media