Home | Voting | Results | About
Election integrity and security
Election security is a top priority for the Orange County Registrar of Voters.

Registered voters have four easy and secure options to return their ballots this election season. You can send your Vote-By-Mail ballot using the U.S. Postal Service, place it in one of the 121 ballot drop boxes located throughout the county, bring it to one of the 181 Vote Centers or vote in-person at a Vote Center.

All voted ballots are collected and transported by two-person Registrar of Voters teams, always maintaining strict chain of custody. And, the location of each ballot collection team is monitored at all times.

You choose the return method with which you're most comfortable. We make sure they are all secure.



Bob Page
Registrar of Voters
Current Tweet
Return your ballot early! Ballot drop boxes are open today and will remain open 24/7 through November 8 at 8pm. You can find your nearest ballot drop box at our website.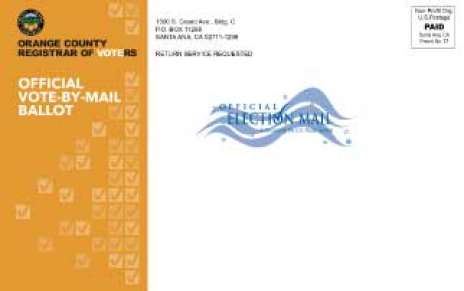 Ballots are on the way
Yesterday, Vote-By-Mail ballots were mailed to all registered voters in Orange County. You can track your ballot through the entire mailing process with OC Ballot Express.
If you do not receive your ballot by next week, you may request a replacement ballot. For assistance, visit our website or call the Registrar of Voters at (714) 567-7600. You can also pick up a replacement ballot at the Registrar of Voters, 1300 S. Grand Ave., Building C, Santa Ana.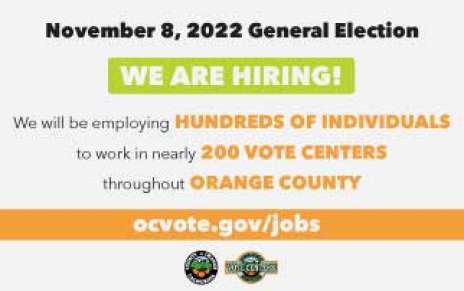 Hiring
If you'd like to help your neighbors vote in the 2022 General Election and make a little extra money this election season, the Orange County Registrar of Voters has temporary positions open. Learn more and apply via our website.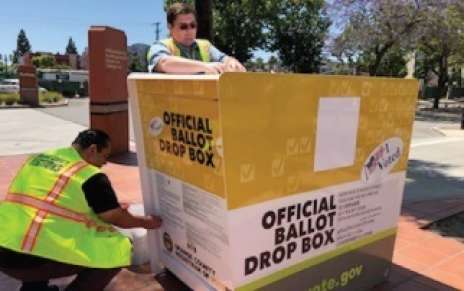 Ballot collection teams
Our two-person ballot-collection teams yesterday unlocked all 121 secure ballot drop boxes throughout the county. They will now regularly retrieve ballots from the ballot drop boxes, with increasing frequency as Election Day approaches. Starting October 29, they will also collect ballots from Vote Centers. Ballots are brought to the Orange County Registrar of Voters for secure processing.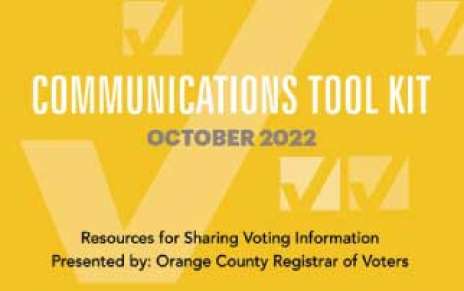 Communications Toolkit
If you'd like to share important information about the 2022 General Election, our Communications Toolkit is now available! We created an infographic, social media posts, sample newsletter articles, and short instructional videos so that you can share important voter information with your network of contacts. To access the Tool Kit, click here.
S H A R E N E W S L E T T E R
Current Voter Registration
1,814,235
Registration | Data | Results | Contact Us | Media